Details of Dementia
Management Project

Dementia prevention and raising awareness promotes quality improvement of dementia management services. Educational programs and promotional activities will improve the public's understanding that dementia could be prevented, treated and controlled. The following diagram shows details of the project.

Dementia's early examination project aims at preventing the development of serious dementia by means of effectively diagnosing and managing the disease at its early stages. This can be made possible by early screening of the high risk elderly population within the community.
By continuously providing diverse forms of management services to dementia patients in the community, the dementia prevention, registration and management project intends to improve the quality of life of patients and also to reduce the supporting burden of their families. Through prevention management services on high risk dementia patients and normal elderly people, the total social burden can also be reduced.

This aims at reducing the economic burden of patient's families and improving the quality of life by supporting treatment and examination costs for low income dementia patients in the case of a confirmed diagnosis.
The project not only helps the patient in actual costs, but also allows for the patient to have a higher quality of life through support of services that the patient would not be able to afford otherwise.

It intends to create an efficient utilization system for the management of dementia by organically linking community resources. This would be possible through fact-finding surveys of dementia related communities and the creation & operation of a linking system between community resources of districts. Fostering and operation of volunteer workers as well as case management services within each district will also help create an efficient utilization system for the management of dementia. Project details by category are shown in the diagram below.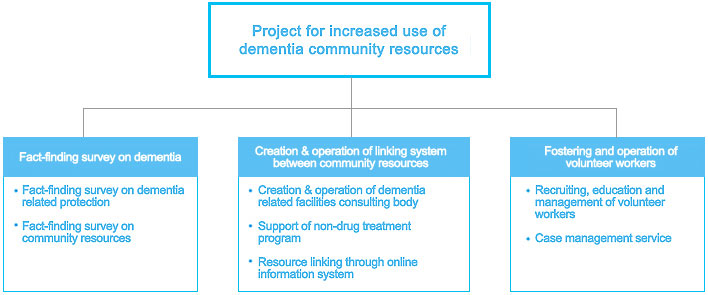 To maximize the efficiency of the Dementia Management Project, related people will need to be provided with accurate information and resources about dementia.
Those related to dementia will include the patients themselves, families of the patients, health care professionals, dementia support facility workers and also the public.

The following websites and databases will be established and operating to provide these people with fast and easy access to accurate information about dementia:
- 'Dementia Management Project Central Homepage'
- 'Dementia Facilities Information Online Database'
- 'Dementia Examination & Registration Management Online Database'
- 'Dementia Telephone Consultation System'
- 'Remote Dementia Examination and Consultation'